Inflatable camping tent manufacturers
Inflatable camping tent is good for your party when you have it outdoor.But some of people do not know where and how to buy it.If you want to buy it for your party.I think this inflatable factory-Y&G inflatable factory will help you.It is a good Inflatable camping tent manufacturers from China.It supplier all kinds of inflatables.Such as inflatable slide,inflatable tent,inflatable pool and so on.
I think this camping tent is fit to you have a party.The camping tent more information is:
Size: 5mL x 5mW×4mH
Pack: 130×80×80
Weight: 120kg
Material: 0.45mm PVC
Cert: CE,EN14960,EN71
Feature: High Durability, High Tear Strength, Fade Proof, Flame Retardant M2/B1, Anti-Mildew Treatment, Excellent UV-Resistance, Cold Weather Resistance, Waterproof, Anti-Static, Heat-Insulation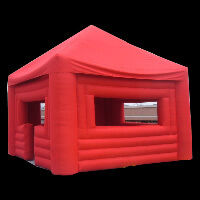 ● MOQ: 5 PCS.
● Delivery: 7 days by express, 15-30 days by sea.
● Payment: T/T , Western Union or Paypal.
● Accessories: Suitable blower certificated by CE/UL are presented, repair kit of product.
※PLATO PVC Tarpaulin is the best PVC Tarpaulin material in China
We also can produce the inflatable camping tents as your design,size and colors.
If you have any further questions please let me know.