Kids can gather their happiness on the bounce house inflatable
As the Japanese cartoon's hit, more and more kids have a dream to become the king of pirates. Many kids want to have an experience to be a caption as Luffy, the character in the hit cartoon, One Piece. But, in fact, this dream is more possible to realize in the ancient than in nowadays. Even so, the fact can not break up kids' dream. Attracted by this phenomenon, we have designed and produced a new inflatable bounce house.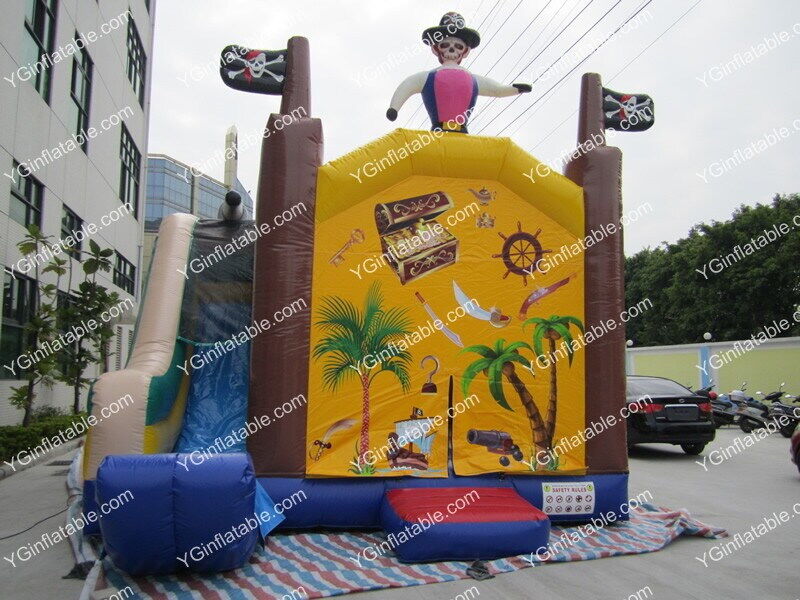 Pirate flag and its logo is the bright spot of the inflatable bounce house. Printed the skull and bones on it, the bounce house is more and more similar to a pirate ship. At the gate of it, there is a door curtain printed the possessions, swords, trees and other things link to pirate theme on it. When you go in it, you can find a basket on one corner of the wall and kids can play the inflatable balloon in it. On the left, there is the stairs and kids can go on it and go to the inflatable slide where they can go out of this bounce house. Above the slider lies an inflatable fire gun. It is its special appearance that attracting kids a lot so much so that they will indulge in pleasure without stop.
It is a wise choice to have one, placing it in your yard and allow your children to play on it. That can cope with the problem that you have little time to accompany with them. It is easy to set it up and convenient to fold it away. Surely, they can gather their happiness in this inflatable bounce house. For your kids' happiness and their healthy grow up, just contract us by phone or visit our website.