Allow your kids enjoy their childhood in the inflatable bouncy house
Have you ever heard the story about Alibaba and the forty thieves? Have you ever dreamt of being such a smart person the same as Alibaba? Have you ever wanted to visit Arab and visit their magnificent buildings? A new inflatable product can realize your dreams.
With the theme come from Alibaba and the forty thieves, the inflatable bouncy house looks like the building in Arab. Its appearance is as follows: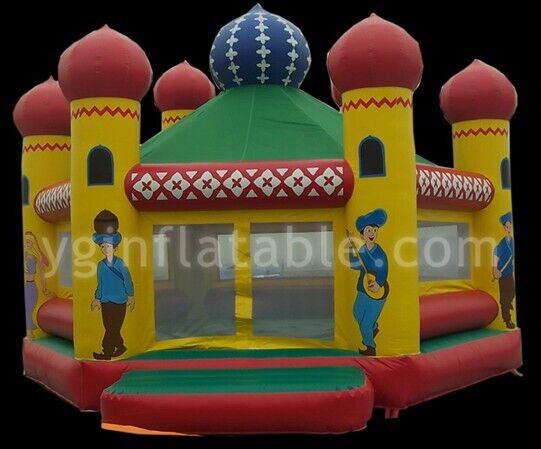 Printed with six different characters on six inflatable pillars, the inflatable bouncy house covered in yellow, blue and red, the warm color skin. Furthermore, the brand on it is very exquisite. The arches on the top of the inflatable bouncy house are attracted too. While playing in it, kids will feel at ease and they can jump in it up and down happily, which is beneficial for their healthy grow up.
On the other hand, this inflatable bouncy house is suitable to place in the carnival so as to attract more people's attention and then reach the goal that gain more visitors.
Furthermore, the inflatable bouncy house is convenient to demolish. You just need to find out the plug of it and then pull it out, allowing the gas to release naturally. After the gas has finished releasing, you can fold it away, that is meant that it will not take you too much place to store.
Made by PVC, the best material in China nowadays, the inflatable bouncy house has enough elastic and your kids can jump in it without any dangerous. In case of falling down, without any injuries, your kids just rebound in it happily.
If you want to have one, you can visit our website to order it or send your idea to us. The address is: http://www.yginflatable.com.