[5/26/2018]
The steps of cleaning an inflatable water slide
The
inflatable water slides
are popular with children in summer. Children can keep cool and burn off energy. The water slide seems to be attractive with children, but it may be the upset for parents to clean an inflatable slide. This is why many of parents hesitate to set up a water slide for their children. However, cleaning a slide is not difficult, you need to follow five simple steps.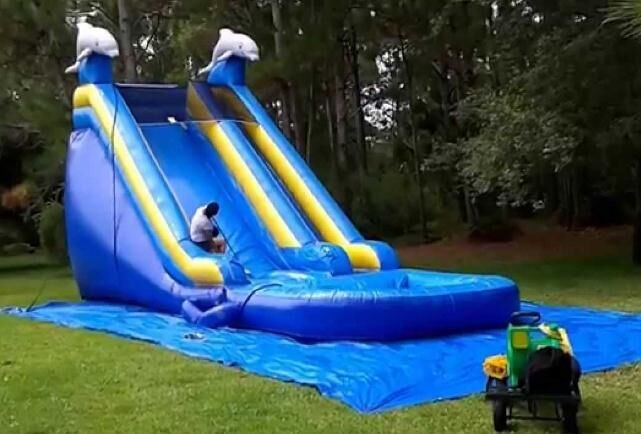 1.You need to drain out all the unclean water first. You can drain it onto the grass. If you concerned it may damage the grass, you can drain this onto a pavement area. To avoid soapy or unclean water sitting around, you should use the garden hose wash the draining area.
2.The next thing you should do is rinse the water slide with a garden hose. However, most of the hose nozzles have different water pressure selections. You should choose the appropriate water pressure. It is good enough to rinse off the dirt and protect your water slide.
3.It is a time for you to scrub the water slide with soap and water. Most of inflatable water slides are made of lightweight vinyl. To protect the slide, you should clean it with a vinyl cleaner with a soft sponge or mild dish soap solution mixed with water. And then, you must rinse it again. Make sure all vinyl cleanser or soap are thoroughly washed off, you would not want to have any residue the next time your kids play on it. At last, you should place it over a clean tarp.
4.It is crucial to dry the inflatable water slide before you store it. Maybe you are busy doing something now, but you can't lost patience in waiting. It will damage the water slide if you store it while the water slide still has moisture or water drops. You kids can't play on it next time you take it out. Although some could use a hair blower or fan to speed up the drying process, the natural wind and heat from sunlight should do the job. For folding and other areas that can be more difficult to dry, you can use a dry cloth to wipe off the water drops. At this time, I would disconnect the water slide from the blower that feeds it with the flow of air.
5.Before you store it, you should check again whether the water slide is totally dry. To prevent damaging the water slide, you should avoid placing it outdoor, and away from the direct sunlight. Store it in a shed is the best way, but make sure the storage room is clean. The next time before your kids use the water slide, you should recheck to make sure there is no mold being developed, then rinse it with water.
As a kid, the
inflatable water slide
is the most interesting toy he wants to see in summer. As parents, it is as vital to keeping the slides clean and safe. Of course, the most you want to see is your kid can help out in the cleaning process, it can develop them with the sense of responsibility. Anyway, with the right cleaning steps, these water slides will provide years of fun for your kids.