[6/1/2018]
The methods to fix an inflatable water slide
The
inflatable water slides
are very popular with children in a hot summer day. But they will become worn out because many children climb and slide on them, and they may become torn at some point. However, you don't need to worry about that, because the damage is very easy to repair. Your inflatable water slide will be back in good condition and you can continue renting it for parties and events. So how to Find and Repair a Hole in an Inflatable Water Slide? Here are some methods for you.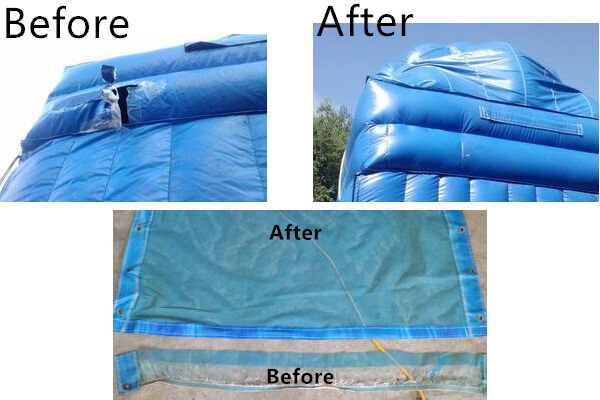 If your inflatable slide is leaking, the first thing you should do is to find where the hole is. A small hole is so hard to find because it just causes a slow leak. The best way is spraying the water slide with soapy water . When you inflate the slide, you will see bubbles forming, so you can find the hole.
You should dry your inflatable water slide completely before you can patch it. To make it easier to find the hole again, you should put strips of masking tape around it to form a square after the slide is dry.
The next step is to sew the hole with a needle and thread. Use strong thread and sew as close together as you can. You may have a needle and thread in your home, or the water slide may have come with a repair kit when you bought it.
If you have finished sewing your inflatable water slide, then you need to patch the hole. The patch you should cut is at least one second inch bigger than the hole, spread small amounts of glue around the square, and place the patch onto the glue to cover the hole. It will last at least 24 hours. So you can not put your inflatable water slide in a place with rain or high humidity, because it can prevent the glue from drying. After the glue has dried, you can re-inflate the water slide.
If you own an inflatable rental business, having water slides among your offerings can help your business appeal to kids and their parents. Inflatable water slides are popular for birthday parties, carnivals, fairs, and school and church events. So you should need to learn the methods to fix an
inflatable water slide
, and make it become popular next time.