Matters needing attention for inflatable water slides
Now,the inflatable water slide is a common inflatable device in children's amusement parks. It not only enables children to experience exciting sports, but also increases children's childhood replacement. However, too many children like to play on the inflatable slides, so the safety of children's amusement parks is often a concern for parents. So here are a few things to watch out for when your child is playing with the inflatable slide.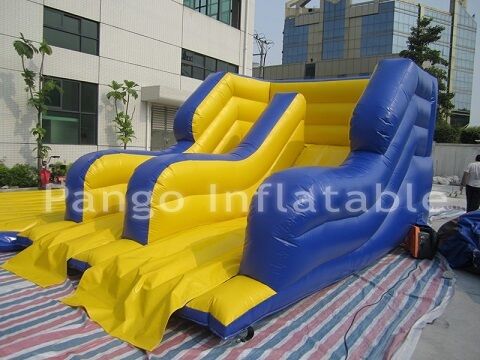 First, children should not take sharp objects or metal when playing with the inflatable water slides, and children should take off their shoes to avoid tearing the inflatable slides in the process of playing, which will bring danger to children..
Second, the child must check the whole equipment before playing with the inflatable water slide, to see if there is air leakage, or other safety hazards, so as to avoid unnecessary dangerous situations in the process of playing.
Third, if the children play for too long, there will be a lot of sweat, at this time parents must help the child in the first time to dry the sweat on the body, so that the child can avoid cold and cold.
Fourth, in the process of children playing, parents must take care of the children, to avoid the child because of too many injuries.
Fifthly, tinflatable water slides should be disinfected regularly to ensure that children can avoid bacteria invasion during play.