Enjoy your holidays with backyard inflatable water slide
Summa holiday, the longest holiday is coming. Many kids are liberated from their school and enjoy their holiday life. Different from their relaxation, parents are worried about whether they can care for those naughty kids. Moreover, kids' safety is their primary problem to consider, so much so that they don't want their kids play out of their home. For this phenomenon, inflatable toy can be their best selection, for example, backyard inflatable water slide, a kind of inflatable production which can be placed in the backyard.

With its size 9×6×5.5mH, this backyard inflatable water slide is only 280 kilogram. It has double tracks and the stairs is in the middle of them. Its picture is listed as follows: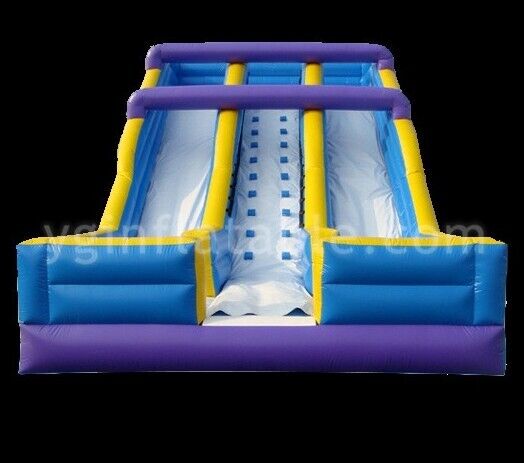 You can see, its stairs isn't excessive steep, and the enclosures of them are high enough to protect your kids from being injuried by playing on it. Furthermore, when your kids slide down on it, with the special material PVC, they will feel excited because the tracks are rich of elastic and soft enough. Also, the enclosures in front of the slides can play a role of buffer. It doesn't take you too much place just because it is an inflatable production, that is, it can release its gas from the outlet and then you can fold it away and store it.

In addition to the handrail, the inflatable slide is covered in blue and violet, the cool color which have an influence for kids play on it and feel at ease in such a hot and dull summa holidays. It is obviously that while playing on it, your kids will indulge in pleasure without stop.

What's more, if you want to a special one, you can choice different sizes and colors. Even so, you can send us details and a sketch or a picture of your requirements and we will quote you our best price.