The inflatable funland
The inflatable funland is a kind of new inflatable toy make in our company. There are many inflatable cartoon and recreational facilities on it. With it special appearance and vivid color, kids who are willing to play on it, will indulge in pleasure without stop.

Our product GF034 is one of our best inflatable funlands. With its appearance like the castle, the inflatable funland has two outlets which can effectively decrease the time that you blow it up. Its appearance is as follows: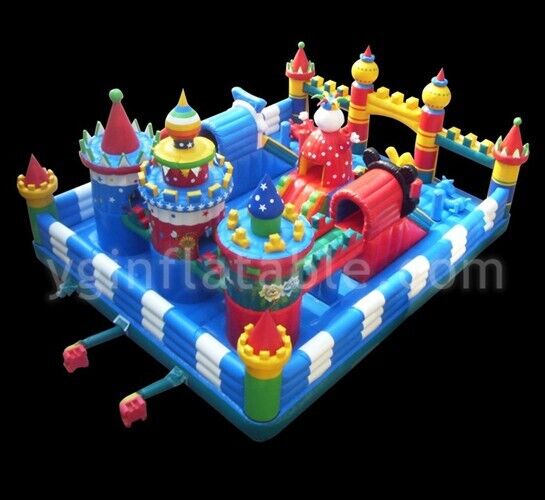 With its size that its length is 10 meters and its wide is 11 meters and the height is 5.5 meters, the inflatable funland is only 500 kilogram. There are many cartoons on it. Also, there are several inflatable arches on it. Obviously, there are 6 pillars in the middle of the inflatable funland and they are link by the bridge. Kids can crawl through from one pillar to the other on the bridge.

Although the inflatable funland has a large size, it is easy to set up. You can link its outlet with the blower and then you can blow it up which will cost you several minutes. what's more, if you want to store it away, you can pull out its plug and then allow its gas to release naturally. After you do that, you can fold it away and then place it in a dry and cool place on the premise that you have made sure that the inflatable funland is dry. For its best advantage, the amazement parks can keep fresh for visitors so that they can gain considerable benefits.

In addition, you can select different kind of inflatable funlands on our website. Also, we are pleasure to receive your requirement or idea and then we will produce the inflatable funland you like to you and after that, we will quote you our best price.