The Inflatable Water Slide Safety Rules
An
inflatable water slide
can bring memorable experiences to your childhood, but it can also turn that memory sour if you don't follow simple common sense rules. These exciting, large and colorful slides are the perfect addition to any backyard parties or special events, and with adherence to these simple guidelines, not only will it be an awesome time for everyone, it will be a safe one too. You should make sure to tell your kids and guests to dress appropriately if you prepare for event. If they wear comfortable attire suitable for water use, there are no sharp things can damage the inflatable water slide. Because You will not want to be responsible for any holes that need to be repaired in the inflatable water slide.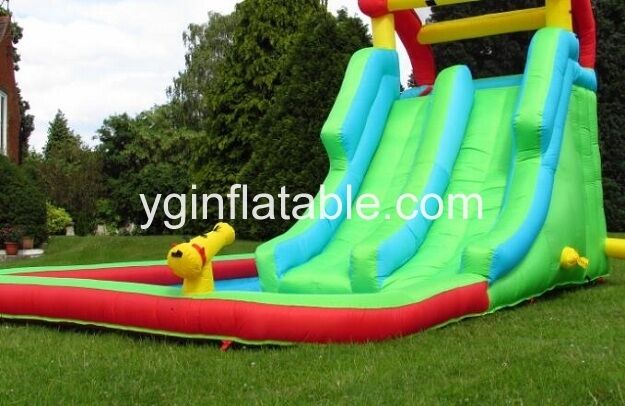 Remain in control of the party-goers with strict rules for behavior. With a fun element like an inflatable wet/dry slide that kids don't regularly enjoy, kids can become overly rowdy and lose control. Be sure to set strict rules, setting consequences if kids should push or shove while on or near the slide, cut in line, or attempt any damage to the rental.
Weather is also an important consideration. Check the weather forecast leading up to the big day. No one will want to enjoy a water slide if it's gloomy and dark outside. Beyond gloom, if the weather turns bad and thunder and lightning begin to emerge, be sure to quickly get everyone inside and start deflating the slide.
In addition to this factors you should consider, here are other safety rules you can also consider. And you can check it out.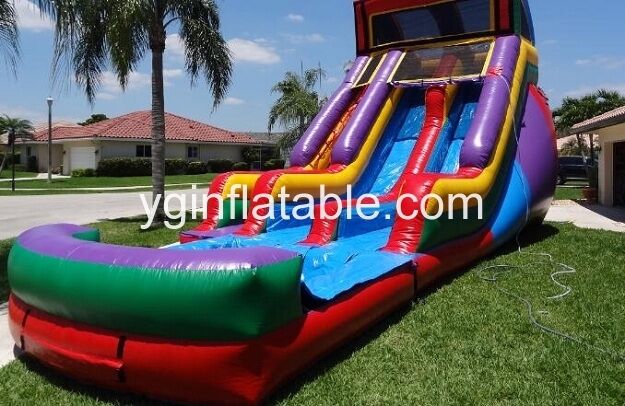 The Inflatable Water Slide Safety Rules
DO NOT let your kid enter an inflatable water slide alone, you should keep watch him/her beside the water slide.
YOU should follow attendant or operator instructions at all times.
ALL sharp and pointed objects must be removed before kids enter.
AND shoes, eyeglasses, and jewelry must be also removed before entering.
NO food, gum, drinks, pets, or sprays inside unit. NO tumbling, flipping, wrestling, chasing, or piling on others.
NO rough play inside inflatable units.
NO unevenly matched users.
ONLY Adults with Adults and Children with Children.
IF weather conditions get bad, or if the inflatable slide begins to deflate, stop playing, remain calm, and carefully exit the inflatable water slide.
DO NOT use inflatable water slides during inclement weather
ONLY one rider sliding at a time.
CORRECT sliding method is seated, feet in front of you.
Do Not Slide head first.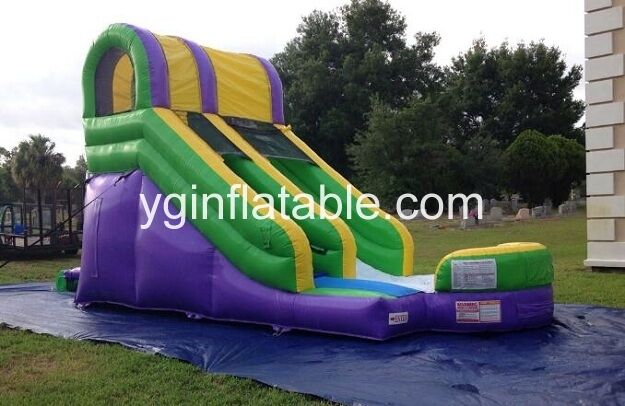 If you have an
inflatable water slide
, you can enjoy more benefits from it, especially if you have kids in the household, it must be needed. And now there is a good news that adults can enjoy in a water slide like the kids. Whether you have a pool at home, the water slide will be inflated at soon and offer fun right at the comfort of your own place. You have known the benefits of the inflatable water slides now, and try to think of reasons why you should have an inflatable water slides.