Back Cow Inflatable Bouncer House With Slide
When you are trying to decide what types of bounce house with slide inflatables to purchase, you will see that General Inflatables has a variety of sizes and styles. We offer more than the traditional bounce house with slides. We also have bounce house inflatables that will go with many different party themes. Such as sports, animals, clowns or jungle motifs and Frozen castle. General Inflatables also has the traditional moon bounce style, and large indoor bounce house inflatables for sale.Here are the new design of our inflatable bouncer house series.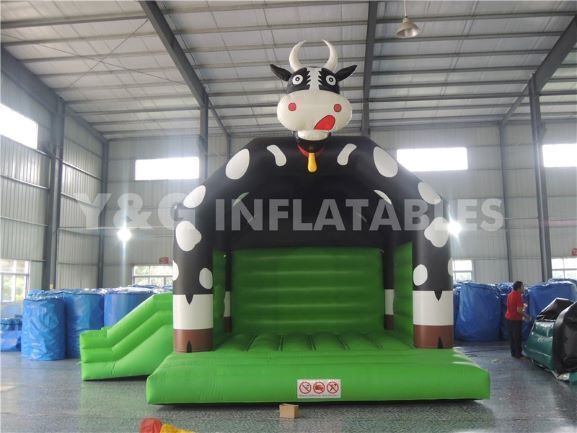 Back Cow Inflatable Bouncer House With Slide
Our Inflatable Bouncer house with slide is designed specially for the children and designed according to children's characters and favor. Its bright color and the differently lovely cartoon on it is one of our Inflatable Bouncer house with slides main characters and are liked by children. They like bouncing and jumping on it. They can have great fun on it with their siblings or their friends. And they even can enjoy this kind of thrill anywhere like their backyard, the grassland, the amusement park and so on. Brilliant smiles are what we always can see on children's face when they are playing our Bouncer house with slides.